Thank you for your vote and trust.
I am delighted to have been re-elected to the plenary assembly of the Düsseldorf Chamber of Industry and Commerce and will dedicate myself to this task with great commitment.
Yours, Christina Begale
---
Christina Begale founded the communications agency Begale Communications in 2012. For topmagazin Düsseldorf, Christina Begale reviews the past months. Her conclusion is pleasing, she describes the last year as the most successful of her self-employment.
The Düsseldorf native, who specializes in lobbying and political communications with her agency, follows the credo: "You have to use crises to reassess your opportunities." Her success proves her right.
---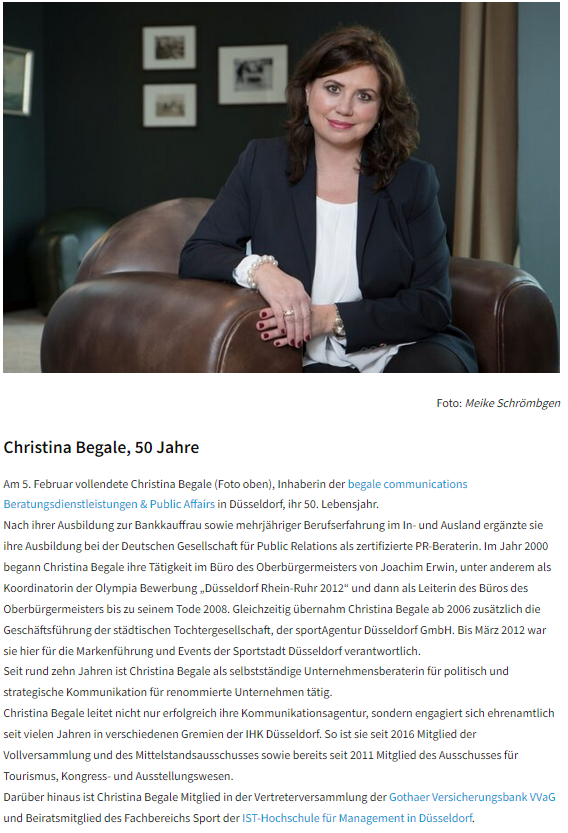 ---
Christina Begale, IHK Assembly member and owner of Begale Communications, faced various challenges with her "Team Wirtschaft". At her side fought IHK President Andreas Schmitz and IHK Vice President Dirk Lindner.
"Team Economy" wiring an excavator circuit board.
Award ceremony – The teams of the IHK Trainee Challenge and the trainees of Vodafone GmbH.
---
On tuesday the 8th of January the Lower Rhine IHK (Niederrheinische IHK) held it's New Year's reception in Duisburg. Central Headpoints were the Energy transition, climate protection, digitization and demography.
Another aspekt was the infrasturcture in and around the Ruhr area. The low water level of the Rhine showed how sensitive the delivery routs are. With that the Lower Rhine IHK starts with big challanges into the new year.
---
---
---
Support FORTUNA!
---
"The Tour de France bid is an important signal for the sport city of Düsseldorf, and the right one. As a city of sport, cosmopolitan and financially strong Düsseldorf must stake its claim as a metropolis that has to be taken seriously in international competition for world-class sporting events.
---
Workshop for the Federal Volleyball League on 29 September 2016 at the IST University of Applied Sciences
---